General questions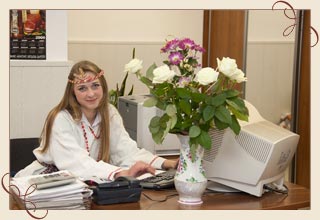 The policy of our company is in support and cultivation of everything Belarusian. That is why we constantly provide free assistance to representatives of the Belarusian art and culture. Due to the same reason our site unlike sites of competitors is available in perfect Belarusian on the Internet.
BELPI's motto: Revival of national traditions will make Belarus prosper!
On our branded bottle the company's name "Bełaruskaje pitwo" is written everywhere in Belarusian only. The text which seemed to you to be written in Polish or in English is actually written in our mother tongue as well, just in the Latin alphabet (Belarusian Latin alphabet).
The Latin alphabet began to be used back in the 16th century. Yan Chachot, V. Dunin-Martsinkevich, F. Bagushevich and others used the Belarusian Latin alphabet. The revolutionary and democrat Kastus Kalinowski issued his famous Muzhitskaya Prawda (Peasant's Truth) in the Belarusian Latin alphabet. At present, the latin alphabet is used by part of the Belarusian expatriate community abroad as well as by the persons interested on the Internet. Use of the Latin alphabet on the branded bottle was very positively received by our partners in export deliveries of the products.
Use of the Belarusian Latin alphabet on our branded bottle is a tribute to the glorious and rich history of Belarus.
BELPI's company shop is in the company's territory at the address: beverages factory, village of Zhazhelka, Smolevichi District Minsk Region. You can find the location map in the Where to Buy section on the site. Driving time from Minsk is around 45 minutes from the city centre.
Here is an example of prices (as of October 2009) to our most popular beverages:
General Prestige vodka: price in a regular shop is 12,990 rubles, in the company shop is 10,190 rubles;
Gentleman's Krambambula: price in a regular shop is 14,290 rubles, in the company shop is 11,210 rubles.
Saving in the case of purchase at the company shop amounts to 22% in this case.
The World Health Organisation does not refer alcohol to poisons. The humankind has consumed it since the times of the ancient Greece until today. Another issue is to know when to stop. As it is said popularly, you should know with who you drink, where you drink, and how much you drink.
We produce high-quality alcoholic beverages required by human during the happy and unhappy time of his/her life. Our consciousness is calm.
Thank you for an interesting question! Belpi was founded in 1992. Originally, it was planned to master production of beer and alcohol-free beverages. The company's logo appeared. The Latin inscription of "BELPI" name where "L" and "P" letters form a beer mug and a crown of rich head on top of it. At present, the principle profile of our company is production of strong alcoholic beverages. BELPI – Belarusian Beverages expands the range of the products produced, quality is improved. Let mugs be filled in and clink, let concerns and problems stay away for a while! Let be health, prosperity and well-being.
Belpi did not invent alcoholic beverages. They appeared long before us. The humankind fought against alcohol in any of its forms on numerous occasions. Recollect: "prohibition" in the USA, the Soviet perestroika with its anti-alcohol campaign. What did happen of it? Winston Curchill's words may be recollected: "Remember! I took more of alcohol than it took of me".
And what concerns being ashamed we would answer "no"! We are sure that we do our work honestly. We produce what is always next to our consumer. We produce what is always on the table. Always there where there is joy and happiness, there where there is grief and separation. We always improve our products. We are sure that our consumer finds in them what he/she is looking for.